Today's team review is from Cathy, she blogs here http://betweenthelinesbookblog.wordpress.com/
Cathy has been reading A Clerical Error by J New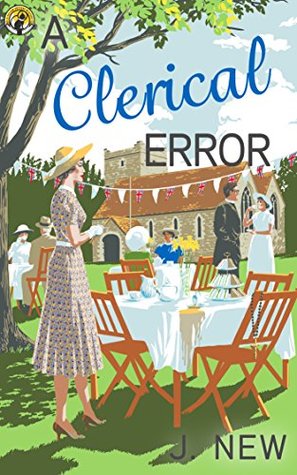 This is the third book in the cozy mystery series set in the 1930s, featuring
Ella Bridges and her ghost cat, Phantom. Ella's life has taken a very unexpected turn. Having believed her husband, John, had died two years ago, she now knows that to be false after a telephone call out of the blue and a conversation with the Home Secretary. With the help of her Uncle Albert, Ella finally learns the truth about John and his activities. Her housekeeper, Mrs Shaw, also proves not to be who, or what, she had claimed. A visit with her Aunt Margaret goes someway to helping Ella to absorb the shocks, put her feelings of anger and distress in perspective and restore her composure.
Ella returns home feeling much more positive and looking forward to a return visit from her aunt. A near miss while out on a bicycle ride brings about an acquaintance with two ladies involved in raising funds for the church and Ella is soon persuaded to run a stall at the May Day Fete. Sergeant Baxter, the policeman Ella has worked with previously was attending the fete, along with the vicar, Father Michael, recently returned from a sabbatical. The fun was cut short drastically when a suspicious death occurred.
Another entertaining mystery, well written with a well crafted and twisty story line. As with the previous books the atmosphere of the era is brought to life perfectly, with suitable dialogue, lifestyle and descriptive prose. Realistic, developing characters and relationships add to the appeal. Despite Ella's personal problems, she and Sergeant Baxter work together and follow the clues, some of which, understandably, take Ella a little longer to process this time round. It's useful, however, having friends in high places who are only too willing to help.
There's less of the paranormal in this story but I was glad Phantom made several appearances. A well thought through and interesting mystery, the reveal coming as a complete surprise. The threads running through the main story line were all wrapped up too, which was good. These are the perfect cozies; engaging characters, no sex or gratuitous violence and a very enjoyable story in a vintage setting.
When the crime scene is pure coincidence and there's no evidence, how do you prove it was murder?
Ella Bridges faces her most challenging investigation so far when the vicar dies suddenly at the May Day Fete. But with evidence scarce and her personal life unravelling in ways she could never have imagined, she misses vital clues in the investigation.
Working alongside Sergeant Baxter of Scotland Yard, will Ella manage to unearth the clues needed to catch the killer before another life is lost? Or will personal shock cloud her mind and result in another tragedy?
'A Clerical Error' is set in 1930's England, and is the third of The Yellow Cottage Vintage Mystery series.
'Miss Marple meets The Ghost Whisperer' – Perfect For Fans of Golden Age Murder Mysteries, Cozy Mysteries, Clean Reads and British Amateur Sleuths
J. New is the British author of The Yellow Cottage Vintage Mystery series. Set on the fictitious island of Linhay in the south of England during the 1930's, they are an homage to the Golden Age mysteries but with a contemporary twist.