Today's team review is from Karen, she blogs here http://mytrainofthoughtson.wordpress.com
Karen has been reading The Weight Of Shadows by Karl Holton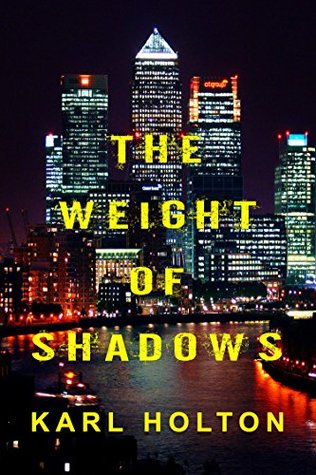 My Opinion
This book introduces you to former DCI Danny Benedict, now with the NCA. Some current cases lead to unanticipated alliances
With The Weight of Shadows, Karl Holton has created a well elaborated story focussed on Danny Benedict, some of his allies, and of some really bad guys. The introductory part is on the slowish side, to get the readers acquainted with the main characters of the different plot lines. It was easy to get into the story as it took up pace; I started trying to solve the case with Benedict and his allies. The characters are of sufficient depth, believable with their flaws, some of them too realistic for comfort. Karl Holton created a thrilling story that kept me glued to my reader. As soon as the story leaves its introductory phase, each plot line proceeds at a fast pace, leading the reader on a chilling journey; it comprises some unexpected turns, and has a good flow. I am looking forward to reading book #2.
This is a book for you if you like thrilling and well-combined plot lines, do not insist of in-depth procedurals, and appreciate firsts in a series with interesting surprises.
Recommended – enjoy the thrill.
When you have spent your life in the shadows, what would you do at the dying of the light?
Three years ago the best murder detective in London is blamed for the death of his colleague and kicked out of the Met.
A man with secrets buried in the past and present returns to London, the city that started the mysterious career which made him a billionaire.
The two need each other.
But they have no idea how much.
A gripping crime thriller mystery with twists from the beginning to end.
Karl Holton's first book, 'The Weight of Shadows' came out in July 2017. It is the first in a new crime thriller mystery known as the 'Shadow Series. The second in the series 'The Wait for Shadows' came out in December 2017. Both are available on Amazon.
Karl previously worked in financial markets for over thirty years, before deciding that he had to write. He couldn't leave this dream any longer.
He lives in the United Kingdom with his wife and two children.