Today's team review is from Olga, she blogs here http://www.authortranslatorolga.com
Olga has been reading In Wolves' Clothing by Greg Levin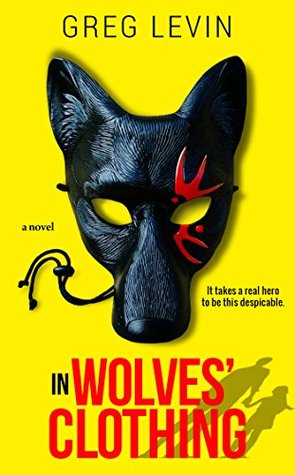 Zero Slade is the narrator of this story that packs plenty of action, violence, and darkness in under three hundred pages. He is a flawed hero or even an anti-hero. He drinks too much, he takes prescription painkillers (of course, no longer prescribed, although there's little doubt that he is in pain); he loves his wife but lies to her and cannot share his feelings; he is good at his job but is falling into a downward spiral where he makes mistakes, often makes the wrong decisions and gets himself and others into trouble. He is a master of witty retorts (although these seem to take the form of a mental commentary rather than things he tells people, as he pretends, both for professional and for personal reasons to be calm, collected, and not easily fazed), and dark-humour and a cynical point-of-view are second-nature to him. His style of internal dialogue reminded me of noir-novels and of the voice-over narrations used by film-noir detectives of the thirties and forties. He is big, strong, and, in appearance at least, tough. And he needs to be, to do the job he does.
The book's subject is horrific, and although the novel does not go into a lot of detail about sex trafficking, it does highlight the reality of it, the terrible statistics, and the experiences of the young girls and of those who try to help them, often with little long-term success. Doing such a job requires special qualities and takes a toll on all those involved. Zero reflects on the motley crew he works with early on in the novel and when we meet the new recruit he is supposed to train, Caleb, we wonder what he has in common with the rest and how he came to be there. He seems too together. A Buddhist who always sees the positive side of every situation. Of course, things are not always what they seem, and Zero is not the only one keeping secrets.
Coping with such extreme experiences is not easy. Zero's first-person narration allows the reader to get inside his head and share his techniques to try and avoid getting emotionally involved and overwhelmed by what he sees. His drinking, his drug abuse, and his defence mechanisms and strategies all point to the fact that rather than being hard, tough, and unfeeling, he is trying to protect himself because otherwise, he'd crack.
We don't get to know all of the secondary characters well (the book is short, but we do get a good sense of what Zero thinks about them, even if he is not always the best judge of character and he gets more than one surprise) but especially those on the good side are varied, interesting, sympathetic, and morally complex. We don't know every single detail of Zero's life either (and he spends a fair amount of time under the influence of drink, drugs, both, or in pain) but he shares enough of his memories and experiences for us to root for him. We know how he met his wife, we learn about his brother's passing, and even about some bad things that he might or might not have done. Many unreliable narrators sometimes try to paint themselves in a positive light, but although Zero is in denial about his addictions, he is a master of understatement and skilled at putting himself down.
I have once again highlighted a lot of the book, but just a few samples of a novel that's eminently quotable:
Whenever people say, "It could always be worse," they're right … unless they're talking about what the Lost Girls have been through. That's where worse ends.
Talking about a superheroes blockbuster movie: It's about Lycra overcoming evil.
I hate that playing a pedophile comes more naturally to me than being myself.
The trouble is, the camera always takes five pounds off the truth.
The flight attendant returns with my refill. Saved by the bourbon.
One of the nurses helping him move tells him: "Okay, this is always the hard part." The perfect title for my autobiography.
This is a fast novel, sharp both in action and in style, with fabulous dialogue and a quick-fire and pared-down writing that is dynamic and vibrant. It also has a big heart, deals with a very serious subject, and manages to convey the depth of feeling of a character that goes to big lengths to hide that he is a big softy. Ah, and the ending is great too.
If you don't mind a fair amount of violence (never gratuitous, but still…), the subject matter, and like heroes down on their luck with plenty of verbal style, you are in for a treat with this novel. An author to follow closely and an important subject.
On his best days, Zero Slade is the worst man you can imagine. He has to be. It's the only way to save the Lost Girls.
During his seven years on a team fighting child sex trafficking, Zero's become quite good at schmoozing with pimps, getting handcuffed by cops and pretending not to care about the Lost Girls he liberates. But the dangerous sting operations are starting to take their toll on his marriage and sanity. His affinity for prescription painkillers isn't exactly helping matters.
When the youngest girl the team has ever rescued gets abducted from a safe house in Cambodia, Zero decides to risk everything to find her. His only shot is to go rogue, and sink deeper into the bowels of the trafficking world than he's ever sunk.
It's the biggest mission of his life. Trouble is, it's almost certain death.
Greg Levin is an award-winning author of contemporary fiction with a dark comedic tinge. He's gone from being read merely by immediate family and friends to being read also by extended family and Facebook acquaintances.
Greg's novel The Exit Man was optioned by Showtime for development into a TV series, and won a 2015 Independent Publisher Book Award (a.k.a., an "IPPY"). He earned a second IPPY with his next novel, Sick to Death, which Craig Clevenger (The Contortionist's Handbook) called "a tour de force dark comedy." Greg's latest book, In Wolves' Clothing (launching Oct 11, 2017!), is his most dangerous. He wrote much of it during a ten-week-long workshop led by the great Chuck Palahniuk (author of Fight Club and lots of other books Greg sleeps with at night).
Greg resides with his wife, daughter and two cats in Austin, Texas. He is currently wanted by local authorities for refusing to say "y'all" or do the two-step.
Goodreads | AmazonUk | AmazonUS | Twitter