Today's team review is from Sandra.
Sandra has been reading Zenka by Alison Brodie
I had not read anything by Alison before so (being a fellow Scot) thought I'd give it a try. I was very impressed. The title character is a Hungarian pole-dancer who was promised a good job in London but had actually been sold into the sex trade by Romanian gangsters. She is saved from a fate worse than death by Jack Murray, 'top gang boss' in London and owner of the club where she now works. Jack is ruthless but a big softie where women are concerned.
He finds out that he has a son by someone he knew at school but is too frightened to make contact in case his enemies harm the young man in retaliation. Without giving too much away, what follows is a hilarious attempt to help his son anonymously and toughen him up (Zenka thinks he is a bit of a wimp) before he feels it is safe to introduce himself.
The plot is hilarious, full of dark humour with many twists and turns that you don't see coming. The characters are well written and believable; you care what happens to them. There is also a cinematic quality to the story that would make a very entertaining film; a combination of black comedy, crime thriller and love story.
Thanks to Alison Brodie for the ARC of this novel that I review as part of Rosie's Book Review Team.
Ruthless, devious, and loyal, Zenka is a Hungarian pole-dancer with a dark past.
When cranky London mob boss, Jack Murray, saves her life she vows to become his guardian angel – whether he likes it or not. Happily, she now has easy access to pistols, knives and shotguns.
Jack discovers he has a son, Nicholas, a male nurse with a heart of gold. Problem is, Nicholas is a wimp.
Zenka takes charge. Using her feminine wiles and gangland contacts, she will turn Nicholas into the son any self-respecting crime boss would be proud of. And she succeeds!
Nicholas is learning fast that sometimes you have to kill, or be killed.
As his life becomes more terrifying, questions have to be asked:
How do you tell a mob boss you don't want to be his son?
And is Zenka really who she says she is?
Alison Brodie is a writer and animal rights activist.
Her books have been published in hardback and paperback by Hodder (UK), Heyne (Germany) and Unieboek (Holland).
Alison is now a self-publisher. Here are some editorial reviews for her recent books:
BRAKE FAILURE: "Masterpiece of humor" –Midwest Book Review
THE DOUBLE: "Proof of her genius in writing fiction" -San Francisco Book Review.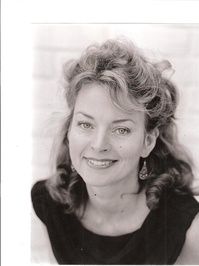 Goodreads | AmazonUK | AmazonUS | Twitter