Today's team review is from Cathy , she blogs here http://betweenthelinesbookblog.wordpress.com/
Cathy has been reading The Angel Killer by April Taylor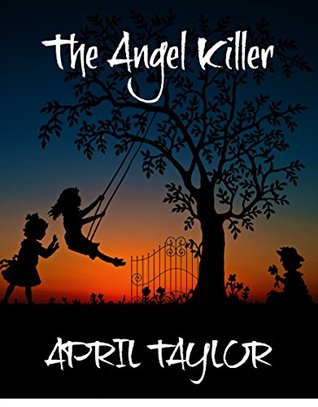 Deryn Steele's life had taken an unimaginable path when he rescued a girl from her abusive boyfriend, and a sequence of events resulted in a near death experience, the knowledge that somehow he was now an empath and a prison sentence. He worked hard to obtain a psychology degree and a subsequent teaching qualification, only to find disillusionment in the role he secured as lecturer at Birmingham City University.
DCI Harry Curzon, the arresting officer all those years ago, and Deryn have kept in contact. It was Harry who persuaded Deryn to try for his degree and teaching qualification. When Deryn is suddenly and inexplicably let go from the university he takes the offered opportunity to work with Harry. There's a killer in Thorpe St David targeting blonde, blue-eyed twelve year old girls, but the last victim, Becky Maddox, survived the attack. Harry's hoping Deryn can gain some insight or information from Becky.
Given the subject matter, I like the fact there's no unnecessary violence or description of the crimes. Deryn is an intriguing character and his, and others', reactions to his 'gift' are portrayed realistically and convincingly. He is uncomfortable with being an empath, still not quite used to being able to tune in to others' feelings and emotions, yet when he can't read someone involved with the investigation, he's surprised to find himself shocked. His strong reaction to Terri Fordham, the aunt of the latest victim, is immediate, perhaps a little too much so for me, and unexpected. Running alongside the main plot is the question of why Deryn was inexplicably sacked from his university post when the principal knew all about his background.
There are a number of possible candidates for the killer and April Taylor does a good job with the plot twists. I didn't guess the correct identity until it was revealed. I think there could be quite a bit of mileage in Deryn and Harry. They make a good team and they're both likeable characters. Although we get a good sense of who they are, there's room for more depth.
A psychic, supernatural or paranormal thread in a story is always a hook for me and the psychic aspect is executed well in this story.
Deryn Steele has an unwanted psychic gift leftover from a near-death experience. He can read people just by touching them. His friend, DCI Harry Curzon pulls him into the hunt for the killer of blonde, blue-eyed 12-year-old girls in the Lincolnshire seaside town of Thorpe St David, the Angel Killer..
Deryn meets Terri Fordham, aunt of the latest victim, who has survived an attack. It is a shock when he cannot read Terri, but this feeds his growing feelings for her making him determined to catch the predator. It soon becomes clear, however, that this killer won't stop and is not only still targeting Terri's niece, but also Terri. Can Deryn keep the girl and her aunt safe and unmask the murderer?
Author of The Tudor Enigma series. High Treason in an alternate Tudor universe.