The Magician's Curse by Linda G. Hill
My rating: 3 of 5 stars
The Magician's Curse is a romance with a paranormal twist and is set in Canada.
Herman Anderson is almost eighteen; handed down a predominantly male name in a family tradition, she has decided to drop out of school and take up a job on a horse farm. On her way to her new job, she meets a handsome man on her train journey and they both feel an instant love connection. Twenty-three year old Stephen in a successful magician who immediately offers Herman a job as his magician's assistant, believing she will be a great addition to both his act and his life.
Herman then changes her plans and leaves the train with Stephen for a new adventure. He is very attentive and domineering, but he has his secrets. A family curse ties him to the Curry family, which ultimately puts a potential wedge between himself and Herman.
The prologue gave a strong opening scene; it introduced us to the demon blood causing through the veins of the Dagmar family. I looked forward to reading more about this demon in the following story. I also liked the idea of the magician. However, for me, there was missed opportunity to further develop the magic and illusions so that they really 'popped' with those moments when an audience are struck dumb with amazement, by making them a more prominent part of the story.
The book description spoke of a Gothic tale of romance and magic, lace and leather. I enjoy dark Gothic romances, but this aspect faded in comparison with the dominant modern themes and situations. The author did use old railways stations and some lace frilled clothing, but I remembered Stephen's lipstick, eye-liner and modern transport more.
I felt the weakest part of the story surrounded the romance and Stephen's role in the curse. The romance bounced from the love-at-first-sight style of a young adult book, then popped in hints and innuendos that boarded on erotica, before returning to chaste kisses because Herman was under-age. Then we were taken back to the curse that had Stephen fornicating with a servant whilst blaming the curse, all behind Herman's back. I can understand the story ideas, I think they just need a bit more polish and some re-working to make them believable, perhaps with more depth to the main themes and cutting other lines that were wordy and clunky.
This book has a complex mix of themes which makes it hard to recommend a particular genre for readers to associate it with. The title might suggest fantasy, the description a romance, but just which age group of readers would it suit? I'm not sure.
View all my reviews on Goodreads
When Herman Anderson leaves home to make a better life for herself, she doesn't expect to meet a tall, dark stranger with whom she'll fall hopelessly in love.
Charming and mysterious, Stephen Dagmar is a stage magician seeking an assistant. The moment he sets eyes on Herman, he knows she's the one. He brings her home to his Victorian mansion where they embark upon an extravagant romance. Yet a shadow hangs over their love. Will the curse on his family end Stephen and Herman's happily ever after, before it really begins?
Amidst lace and leather, innocence and debauchery, The Magician's Curse begins the Gothic tale of The Great Dagmaru. Magic and romance await.
Linda G. Hill was born and raised an only child in Southern Ontario, Canada. She credits the time she spent alone when she was growing up, reading books and building worlds and characters of her own to keep her company, as the reason she became a writer.
A stay-at-home mom of three beautiful boys, Linda is a graduate of the Writing Program at St. Lawrence College in Brockville, Ontario. Aside from caring for her family, she enjoys traveling the world, eating trout cooked on the barbecue, and, of course, reading.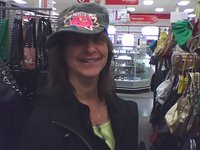 Goodreads | AmazonUK | AmazonUS | Twitter