Today's team review is from Terry, she blogs here http://terrytylerbookreviews.blogspot.co.uk/
Terry has been reading Home To Roost By Chauncey Rogers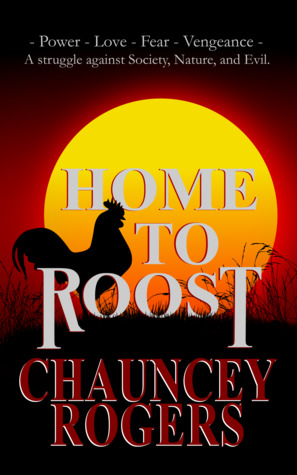 HOME TO ROOST by Chauncey Rogers
3.5 stars 
When trying to 'tag' this book for my blog, I wasn't sure under what genre to put it; possibly there should be a new Amazon category for it, called anthropomorphic suspense, or something.  There's a horror aspect too – it gets darker as it goes on.  Okay.  The basics.  It's about chickens, mostly Little Crown, a small black rooster, and how he finds his way in the world (or the coop).  But it's also NOT about chickens, but about social hierarchy and pressure.  Another reviewer labelled it 'Animal Farm meets Watership Down', which sums it up, I think.  
I loved some of the all-too-human observations, like the way in which Long Tail the Father Rooster does not want Little Crown to learn to fight, because he wants to be all powerful, and show to the hens that he can protect them.  And how the chickens think that the Great Yolk (actually the sun, which they consider to be ruler of all things) prizes chickens over other beings, and looks after them first and foremost.  Reminded me of the practice of armies praying to an entity in the sky for victory in battle, with the self-important assumption that such an entity would necessarily favour them over the opposing armies.  
Home to Roost is written mostly from the point of view of Little Crown, and the first half dots back and forth between his very early life, when he was adopted by the daughter of the farmer's daughter, and before and after 'the racoon incident' ~ an attack outlined at the beginning.  Other points of view are from dogs or occasional humans.  It's well-written and clever, but I think it would have worked better without all the to-ing and fro-ing with the timeline, just as a straight narrative; I didn't think going back and forth between time periods added anything to it.  I also thought the whole thing was too long; chopping down by about a third would have given the story more impact.
Little Crown (earlier and later to be known as Brad) gains knowledge about coop life through the somewhat limited guidance of the Mother Hen, faces fear in the form of cats and snakes, experiences love, loss and revenge.  It's good, and interesting; I'd say that it would appeal most to readers interested in sociology and psychology, and people-watching in general.
When Brad is sent to live with the other chickens, his life of ease is transformed into one of struggle–for friendship, for love, for survival. But when everything he's accomplished teeters on the edge of destruction, Brad discovers that the true struggle is against evil itself, and it may be a fight that is impossible for him to win.
Inspired by a true story, Home to Roost is touching, beautiful, and dark; a powerful debut novel.
"A heart-wrenching tale of love, mania, fear, and the descent into madness. Chauncey uses simple farm animals to demonstrate the complexities of social pressures, and issues such as love, hate, and death. A beautifully-chilling story, a horrifyingly-addictive read."
-Lara Hues, author of Allies of Ignorance; Arrows; and Archers
Chauncey Rogers was born in Arizona, and since then has hopped back and forth between the mid-western and western United States. He married in 2012 while attending school in Utah. His favorite movie since he was three is Jurassic Park, and he wishes very badly that Bigfoot and the Loch Ness Monster were real, though he doesn't believe in them as much as he used to.