Today's team review is from Jenny R,
Jenny has been reading Everybody's Somebody by Beryl Kingston
Book review by Jenny Reeve
Everybody's Somebody by Beryl Kingston
Chic Lit, Drama, History
This book deserves 5 stars
I thoroughly enjoyed this book.  There are so many historical accounts incorporated into the story, some of which I was unsure if they were true facts or fiction, so I literally Googled the accounts only to find they actually happened! I had a few excellent history lessons while having the pleasure of enjoying a good book. This made the story even more interesting and exciting.
I felt exhilarated moving from one chapter onto the next, desperately wanting to read more of Rosie's life. There are many up's and downs folded and blended into the tale and the way in which Beryl Kingston writes is very sympathetic to each situation. She writes with affection, thoughtfulness and care using words to create such heartfelt feelings, bringing the book to life completely.
The relationship between Rosie, her husband Jim and Gerry the artist is captivating. I thought I knew where the story was going but then there would be another unexpected turn and I was taken on a different route.
Wonderfully written, beautifully perceptive.  I loved this book.
"Life's for real an' you got to get on with it."
Rosie Goodison is not one to shy away from life's problems. Whether it's finding work or challenging injustice, Rosie squares her shoulders, sets her chin high and faces it full on.
Born at the end of the nineteenth century, in the rural south of England and sent into service aged just twelve, Rosie quickly discovers that many good people spend their lives toiling for very little reward, whilst others 'have it all'.
She decides it won't be like that for her. Why can't she ride in a car? Why can't she work when she's pregnant? Why can't she live in a nice flat? Why can't she be an artist's model?
Whilst working as a housekeeper for two upper-class boys, Rosie starts to learn more and more about the world, gleaned from overheard conversations and newspapers left lying around. This triggers an ongoing thirst for knowledge, which shapes her views, informs her decisions and influences her future.
Rosie aspires to have a better life than that of her parents: better living conditions, better working conditions and pay, better education for her children, to be able to vote, to be able to control how many children she has…
Without realising it, this young woman is blazing a trail for all those who are to come after.
Whilst working in London, Rosie meets her sweetheart Jim, but the The Great War puts paid to their plans for the future, and matters worsen afterwards, as she, along with the rest of society, tries to deal with the horrors and losses.
This heart-warming story follows the events of the early twentieth century – the impact and horrors of WW1, the financial crisis and the rapid social and political changes that took place.
All that remains of Rosie now is a quartet of paintings in an art gallery. The artist, now famous but the model, unnamed and forgotten; nobody of consequence.
But everybody has a life story. Everybody leaves some kind of mark on this world.
Everybody's somebody.
I was born in 1931 in Tooting, and when I was four was enrolled at a local dancing school run by a lady called Madam Hadley, which I attended until I was eight when the war began. Because of the war my school career was – shall we say – varied. I was evacuated twice, the first time to Felpham which is near Bognor Regis and the second to Harpenden in Hertfordshire, and consequently went to ten different schools. I ended up at Streatham Secondary School, an LCC grammar run on the Dalton system, which offered a few lessons as sparking points and then required pupils to be responsible for their own learning, either in study rooms with their teachers on hand to help and advise, or on their own in the library or the school hall. It suited me to a T. Then to King's College London, where I read English and enjoyed myself a lot, but wasn't particularly distinguished, having other things on my mind by then.
I am proud of the fact that I was in Tooting for the first four months of the blitz, and only left it to be evacuated again when our road was bombed and our house was uninhabitable. I spent the middle part of the war in Harpenden and returned to live in London again at the end of the war at the time of the V2's, this time without my family.
When I was just sixteen I met the love of my life, who arrived on my doorstep in Air Force blue one February evening in the coldest winter on record. Despite heavy opposition from my parents, we married three years later during my first year at King's and spent the next 53 years 11 months and 6 days living more and more happily together. We had three much loved children and five much loved grandchildren and once I'd embarked on my career as a novelist, researched all the books together, which was great fun. We finished work on 'Gates of Paradise' six weeks before he died. So this publication is special to me.
I have enjoyed two careers in my life – as a teacher from 1952 to 1985 (with ten years off to bring up my family, which some might consider a third career) and as a published writer from 1980 to date. I am also, although it sounds immodest to say it, an easy and charismatic public speaker, usually unfazed by any audience no matter how big or how small or what questions they might throw at me.
In the two schools where I was head of the English department, I deliberately covered the full range of age and ability, believing that as I was paid the largest salary I should carry the heaviest responsibility. My work was filmed by KCL Education Department for use in their PGCE course and I have given talks at various colleges and schools on a variety of educational subjects, from teaching poetry to 'tackling' sex education. I have never subscribed to the Gradgrind theory of education which is current now, but always believed that the job of a teacher is to enable her students to learn.
I have always been a political animal, taking part in street demonstrations, walking from Aldermaston to London, involved in the 1945 election despite the fact that I was only fourteen, taking to the streets again, along with a million others, to protest against the Iraq war when I was 72.
And as a last and rather lighter touch, I was a beauty queen in 1947. It wasn't all protests!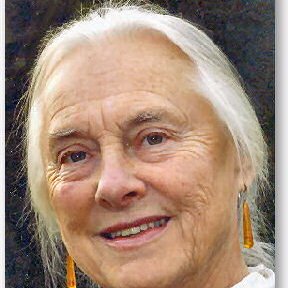 Goodreads | AmazonUK | AmazonUS | Twitter