Today's team review is from Cathy, she blogs at http://betweenthelinesbookblog.com
Cathy has been reading Blood Rose Angel by Liza Perrat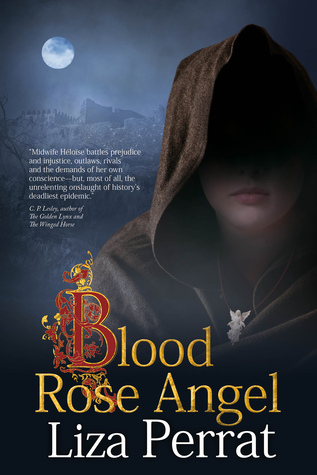 The story begins in the year 1334 and focuses on Héloïse, growing up in Lucie-sur-Vionne and cared for by her aunt, the village midwife Isa, her dead mother's twin. She's taunted mercilessly about being a 'non-born' by some of the superstitious village folk. While Isa was at the next village, Héloïse is called to her first birthing, setting her on the path of an apprentice midwife. Several years later Héloïse is accepted by some for her herbalistic and midwifery skills, although there are those who have always been scornful. She is married to Raoul, a stonemason working in Florence, and their daughter Morgane wants to follow in her mother's footsteps and carry on the family tradition.
When the Black Death is inadvertently brought to the village with Raoul's return, tragedy descends on the people and Héloïse had her work cut out trying to save as many as she could. Until Raoul demanded she stop and think of the safety of her own family. What was she to do….obey her husband or stay true to her vow? The decision was made for her in the worst possible way.
Liza Perrat has completely captures the emotions, behaviour and superstitious nature of the villagers in the face of this horrifying plague. It's a harsh and violent time brought vividly to life with, amongst other things, wonderfully diverse characters, their everyday lives and the historical setting. Héloïse is a compelling woman, strong-willed and resolute, ahead of her time and easy to empathise with. She was determined to do whatever it takes to make life healthier and safer for the villagers, despite the treatment meted out to her.
A powerful and well constructed tale by a talented storyteller, the writing realistic and evocative. Historical details are fascinating and must have taken intensive research. From the superstitions, fears and ill-conceived beliefs that abounded in everyday life to the herbal knowledge and the way religion controlled people's lives. It's an incredible glimpse into the past where fact and fiction blend seamlessly together.
This is the third book in the series but could easily be read first or as a standalone, although I strongly recommend the series if you enjoy well written, authentic historical fiction.
1348. A bone-sculpted angel and the woman who wears it––heretic, Devil's servant, saint.
Midwife Héloïse has always known that her bastard status threatens her standing in the French village of Lucie-sur-Vionne. Yet her midwifery and healing skills have gained the people's respect, and she has won the heart of the handsome Raoul Stonemason. The future looks hopeful. Until the Black Death sweeps into France.
Fearful that Héloïse will bring the pestilence into their cottage, Raoul forbids her to treat its victims. Amidst the grief and hysteria, the villagers searching for a scapegoat, Héloïse must choose: preserve her marriage, or honour the oath she swore on her dead mother's soul? And even as she places her faith in the protective powers of her angel talisman, she must prove she's no Devil's servant, her talisman no evil charm.
Liza grew up in Wollongong, Australia, where she worked as a general nurse and midwife for fifteen years.
When she met her French husband on a Bangkok bus, she moved to France, where she has been living with her family for twenty years. She works part-time as a French-English medical translator, and as a novelist.
Since completing a creative writing course ten years ago, several of her short stories have won awards, notably the Writers Bureau annual competition of 2004 and her stories have been published widely in anthologies and small press magazines. Her articles on French culture and tradition have been published in international magazines such as France Magazine, France Today and The Good Life France.
Spirit of Lost Angels is the first in the French historical "The Bone Angel" series set against a backdrop of rural France during the French Revolution. The second in the series, Wolfsangel, set during the WWII Nazi Occupation of France, was published in October, 2013. The third, Blood Rose Angel, set during the 14th century Black Plague years was published in November, 2015.
Friends, Family and Other Strangers is a collection of humorous, horrific and entertaining short stories set in Australia.
Liza is a founding member of the Author Collective, Triskele Books and regularly reviews books for Bookmuse.