Today's team review is from Terry, she blogs at http://terrytylerbookreviews.blogspot.co.uk/
Terry has been reading Land Of The Hidden Fires by Kirk Kjeldsen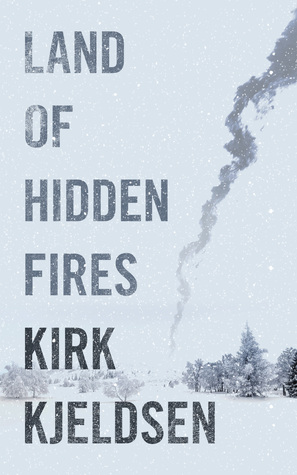 LAND OF HIDDEN FIRES by Kirk Kjeldsen
Reviewed by me as a member of Rosie Amber's Review Team
3.5 stars
I love to read about adventures in icy northern wastes, so I was pleased to see this on the review team list.  The book starts off in occupied Norway in 1943, when 15 year old Kari, who lives on an impoverished farm with widowed father Erling, sees an American plane go down several miles away.  Despite wearing insufficient warm clothing and having only eaten dry bread, she walks miles through the snowy wastes to investigate, then pretends to pilot Lance Mahurin that she is a member of the Swedish resistance.  She then leads him back to the farm, steals her father's horse, cart and money, and the two of them set off on a long journey to get him to safety.  No, I wasn't very convinced, either, but, generally speaking, the book started off on a positive note, as Kari's living circumstances are well-painted, and I like the backdrop of the Norwegian countryside, and the detail about how life has changed in their town since German occupation.
The book moves on with the story of Erling's search for his daughter when he discovers she is missing, and the efforts of Nazi Oberleutenant Conrad Moltke to look for the pilot, too.  Moltke, the disillusioned officer entrenched in bitterness because he is not allowed to play a starring role in the war and live up to his father and grandfather, is by far the most interesting character; I found myself looking forward to the parts from his point of view.
The strength of this is the description of the scenery.  In depth research has clearly been undertaken, too, which is, for the most part, woven in unobtrusively, and it's technically well written, but I'm afraid that the telling of the story itself lacked the spark, drama, character depth and suspense that keeps me interested in a book, dying to get back to it and unable to put it down.  Some of the characters seemed like stereotypes chosen to fit the plot (Kari and her jaunty American, in particular, who, despite being a pilot who's just crashed down in enemy territory, 'sometimes forgets there's a war on'), and there were several incidents I thought unlikely.  Too many of the sentences were flat, doing nothing more than delivering information.
It's not a bad book by any means, it's well presented and there were sections I liked, but on the whole it's a 'just okay', for me.
Book Description
Occupied Norway, 1943. After seeing an allied plane go down over the mountains, headstrong fifteen year-old Kari Dahlstrøm sets out to locate the wreck. She soon finds the cocky American pilot Lance Mahurin and offers to take him to Sweden, pretending she's a member of the resistance. While her widower father Erling and the disillusioned Nazi Oberleutnant Conrad Moltke hunt them down, Kari begins to fall for Lance, dreaming of a life with him in America. Over the course of the harrowing journey, though, Kari learns hard truths about those around her as well as discovering unforeseen depths within herself.
About The Author
Kirk Kjeldsen received an MFA from the University of Southern California and is currently an assistant professor in the cinema program at Virginia Commonwealth University's School of the Arts. His first novel, Tomorrow City, was named one of the ten best books of 2013 by The New Jersey Star-Ledger. He also wrote and produced the feature film Gavagai, which was directed by Rob Tregenza. He lives in Essen, Germany with his wife and two children.
Goodreads | AmazonUK | AmazonUS | Twitter