If you like contemporary reads, then I can recommend these…….
When Alice McCleish's gardener Brian unearths an object of great archaeological significance deep under the compost heap it is not only Alice and her burgeoning friendship with Margaret Allerton, retired Professor of Anthropology, that are affected: the family, friends and neighbours of Alice, who people the narrative, are also touched by subsequent events. Alice and Margaret find themselves questioning long-held beliefs about the material and spiritual world that surrounds them; and both women find their lives transformed unalterably by their newfound companionship. Serendipity puts Alice's nearest neighbour, the troubled Violet Turnbull, in touch with the enigmatic Avian Tyler, whose mystical 'gift' offers Violet a promise of liberation. All the while an echoing voice from long, long ago hints at the history of the locality dominated by the standing stone circle that bestrides the skyline above the small community of Duddo, while charting the harrowing story that reveals the provenance of the artefacts found beneath the compost heap. Amazon.co.uk or Amazon.com
When widowed novelist Louise Gregory's life is turned upside down, can she regain her peaceful home, and regain her trust in a man she thought she new?
Louise Gregory is happy enough living alone with her pets at rambling Lavender House in the New Forest, but her life is suddenly disrupted by an unexpected financial crisis and the appearance on her doorstep of her daughter Penny, with her two young children in tow. Thereafter Louise's life turns upside down: a passer-by, Jack, knocks her off her bike but then comes to her rescue by offering to pay over the odds if she lets him stay; her sister Jane is suffering a mid-life crisis; Penny's strong-minded mother-in-law, Maggie, arrives; and her home, once a haven of peace and quiet, descends into an hilarious, clamorous B&B. Despite herself, Louise is attracted to Jack, but, just as quickly as he had arrived, he disappears. Confused and irritated by her dysfunctional family and the feelings Jack has aroused, Lavender House stands as the only constant in Louise's life, but then her peace is shattered once again. How can she trust a man she thought she knew? With characters who leap off the page and grab your heart, this story will leave you smiling.   Amazon.co.uk or Amazon.com
Alicia, a young American expat, marries Colombian Jorge Carvallo and they settle on his family's remote coffee finca (farm) in the Andes. Educated as a biologist, she revels in the surrounding cloud-forest. However, following an idyllic year, calamities strike one after another and their marriage begins to unravel. Jorge leaves as a volcanic eruption nearly destroys the coffee crop and the threat of guerrillas and drug-lords looms; but headstrong Alicia refuses to budge and stays to salvage the coffee. A woman without a country in a man's world, the initially naive Alicia survives by her wit and determination. A passionate affair ensues with Peter, a rugged geologist. She also forms a tight friendship with Carmen, the barefoot woman who has worked for the Carvallo family most of her life. Despite being separated by class and nationality, these two single mothers forge a strong bond. The intricate web of events climaxes when Alicia finds herself in a life-threatening situation, ultimately forcing her to come to terms with herself and the unconventional life she has adopted." Amazon.co.uk or Amazon.com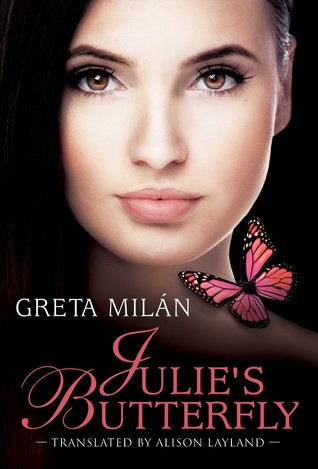 When beautiful Julietta meets aloof, handsome photographer Bastian, she immediately feels butterflies in her stomach.
But Bastian has a secret: Since birth, he has suffered from a very rare skin disorder that makes him exceptionally prone to injury. His life is riddled with pain and rejection; his thoughts are dominated by self-doubt and mistrust.
Julie wants to help him shake loose his inhibitions and open up to her, but can she reach deep enough to truly understand his suffering? Amazon.co.uk or Amazon.com
Sometimes you can go home again. Dave Burke cannot forget his past. Nor can he forgive himself for the tragedy that cost him everything he ever loved, a tragedy he may have prevented. Now, two years later, strange things are happening, things that suggest there may be hope for him after all. The power of love. Is it strong enough to conquer time itself? Amazon.co.uk or Amazon.com
A magical debut about an enchanted house that offers refuge to women in their time of need
Distraught that her academic career has stalled, Alba is walking through her hometown of Cambridge, England, when she finds herself in front of a house she's never seen before, 11 Hope Street. A beautiful older woman named Peggy greets her and invites her to stay, on the house's usual conditions: she has ninety-nine nights to turn her life around. With nothing left to lose, Alba takes a chance and moves in.
She soon discovers that this is no ordinary house. Past residents have included George Eliot and Beatrix Potter, who, after receiving the assistance they needed, hung around to help newcomers—literally, in talking portraits on the wall. As she escapes into this new world, Alba begins a journey that will heal her wounds—and maybe even save her life. Amazon.co.uk or Amazon.com