Today's team review is from Alison, she blogs at http://alisonwilliamswriting.wordpress.com/
Alison has been reading I Promise You This by Patricia Sands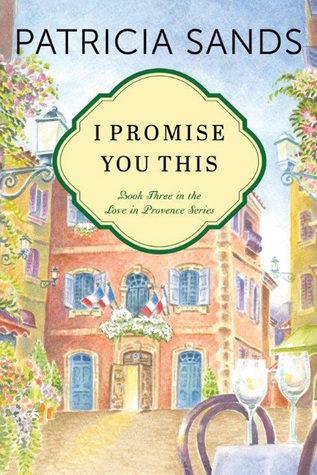 'I Promise You This' (Love in Provence Book Three) by Patricia Sands
I read the first in this trilogy 'The Promise of Provence' last year and very much enjoyed it. Although I haven't read the second book, the author does a good job of letting the reader know what has happened since the end of Book One, so it wasn't too difficult to pick up the threads of the story.
Katherine is back in Toronto, taking care of her friend Molly who has suffered severe injuries in a car accident. Being back in her home city with her family and friends and her memories, and being away from Philippe makes Katherine begin to doubt her certainty that France is where she belongs. She loves Philippe, but she wonders if that is enough.
What I really enjoyed about the first book was that Katherine had a humanity to her – she wasn't perfect, she didn't find things easy, and she suffered, like we all would, when her world came crashing down. I was happy that she was happy at the end of the novel. She deserved that happiness. In this book, however, I felt that the relatable and human side to her wasn't as well-drawn. She was a bit too perfect, a bit too wonderful and kind and desirable. It didn't feel real. Her relationship with Philippe, despite her cold feet, was also too perfect; he was too perfect. While I enjoy a bit of escapism, I do like to be able to identify with, sympathise with and relate to characters. I found that quite difficult to do here. The other characters all seemed far too kind-hearted and generous and supportive too. While people can be all these things, they aren't all of them all of the time, and for me that meant the book lost the edge of the first n the trilogy.
I also felt that a lot of the dialogue was unrealistic. There were a few occasions, particularly at the beginning, where it seemed to be used to pass information to the reader.
That said, the descriptions of France, as in the first book, were wonderful and engaging and very enjoyable to read. The ending, while sentimental and beautifully soppy, was lovely, and absolutely perfect for the trilogy. I may even have had a tear in my eye. But for me, the book didn't work as well as the first.
3.5 out of 5 stars.
Find a copy here from Amazon.co.uk or Amazon.com