Today's team review is from Cathy, she blogs at http://betweenthelinesbookblog.wordpress.com
Cathy has been reading The Final Virus by Carol Hedges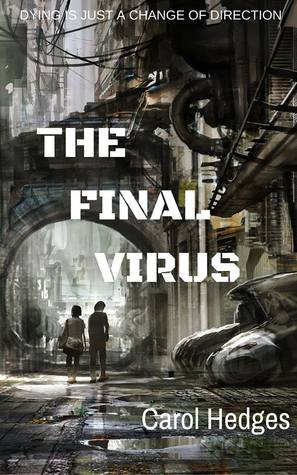 In a dystopian future Earth's environment has completely changed following a spate of natural disasters, which claimed a huge percentage of the populace, and caused extreme climate change, plus a total cybercrash which wiped the data from every chip, memory board and circuit on the planet. This new world is governed by just one president who revitalised the world and improved life for the remaining population. Seemingly.
Will is still reeling from the sudden, and as he believes, suspicious, death of his father. When he finds a calling card which is able to be read by Ned, the computer his father built which Will now uses, his misgivings don't seem unfounded. Will is desperate to find out the truth behind his father's death. He is helped by Amber, his strange and unpredictable classmate, both of them unaware of the danger they are placing themselves in. Will and Amber are complete opposites but despite that, develop an attraction to each other.
Completely different in writing style and genre to other books by Carol Hedges that I've read but nevertheless, the characterisation is just as good. Will and Amber are well defined and distinct, as are the secondary characters, nasty ones too, of which there are a few, but all have their part to play in moving the story forward. I like how the relevant facts of the world setting were revealed by the obnoxious teacher, Mr Neots, in the form of history lessons.
A well written story with some great twists. It's quite a scary picture of the possible effects and consequences of severe climate change. I like how Will and Amber's relationship evolves realistically, given the situation and the disparity between them, yet somehow they complement each other. There are a few plot points which don't quite add up and perhaps needed to be expanded upon, (I'm wondering if there will be a sequel) but on the whole, this is a very enjoyable read.
4 out of 5 stars
Find a copy here from Amazon.co.uk or Amazon.com