Today's team review is from Teri, she blogs here http://teripolen.com/
Teri has been reading The Final Virus by Carol J Hedges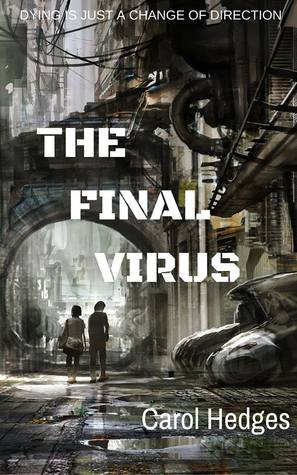 3.5 stars
Will's father dies in an accident at work. At least that's the official story. But Will knows it isn't true. Somebody wanted his father dead – and he's determined to find out why. But it's not easy battling the might of the Globecorp empire that controls every aspect of human life.
The only person who understands and believes him is Amber. And she has problems of her own. Will and Amber are up against an evil that is far more dangerous and darker than anything they have ever encountered. And they only have a limited time to unpick the strands before the final virus is uploaded and time runs out.
The Final Virus is at the upper end of the word count for a novella, but could be read in one sitting if you have a couple of hours.  This book possesses a good concept, with a little something different in the dystopian genre, and has some likable characters – as well as some easily loathed characters.  It moves along at a brisk pace and the descriptive writing produces some vivid imagery.
With this book being a novella, I felt as if too much was compressed into these pages and think the story could benefit from expanding the word count into the novel range and adding more details about the world-building, characters, and their relationships, allowing for a more balanced plot line.  I never had a good grasp of the governmental structure and would have liked to know more about Will and Amber and see their relationship develop at more gradual pace.
There are some nice surprises and twists along the way, but the ending contained a lot of information over a few pages and I think with more details about the world-building, it wouldn't have been quite as difficult to follow.
I received a digital copy of this novella in exchange for an honest review through Rosie's Book Review Team.
Find a copy here from Amazon.co.uk or Amazon.com