Today's team review is from Shelley, she blogs at http://shelleywilsonauthor.com/
Shelley has been reading The Final Virus by Carol J Hedges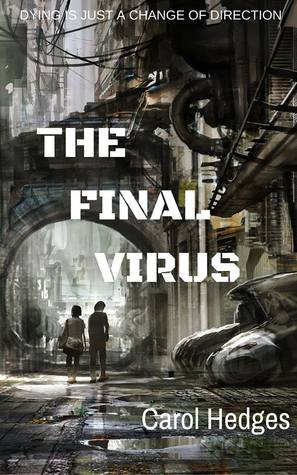 Book: The Final Virus
Author: Carol Hedges
Category: YA/Dystopian
My Rating: 4 out of 5 stars
Review:
Will and Amber live on a new 'Earth', one created after the planet was pretty much destroyed following a cybercrash. This new home is managed by the 'President', a character who remains elusive for the majority of the book.
At the start of the novel, we see the similarities to our day to day life. School and homework, children's parties, and television shows, but as the story progresses we start to get a feel for the subtle differences in this dystopian world.
Amber is a loner with zero friends. Will is a 'popular' who is idolised by the entire student body. They are cleverly brought together, but it's not a smooth road. I liked this aspect of the story. It's all too easy to opt for the typical coming-of-age 'boy meets girl-snog-save the world' storyline. Carol Hedges keeps her characters quirky and at arm's length, evolving Will and Amber's relationship at a steady pace.
When their teacher, Mr. Neots, arrives on the scene I took an instant dislike to the man, a testament to the author's ability to write a fully rounded character. He loathes the students, despises his family and oozes spite. Everything a good antagonist should be.
The storyline centres on Will and his father's 'accidental' death. He meets a government official who leaves more clues to confirm what Will already suspects – that his father was killed. With help from his little computer, Ned, and his new friendship with Amber, they begin a dangerous journey.
Amber's story is less straightforward. She hears voices and sees the Four Horsemen of the Apocalypse at every turn, but she wants to help her friend discover the truth.
That truth, however, brings them face-to-face with the worst kind of evil. Suddenly Amber's story becomes the main view point.
There are plenty of secondary characters to drive the story forward. I liked Will's little sister, Dahlia for her injection of familiarity and I thought Chris and Kayla were fabulous in showing how two children from the same parents could be so different.
Although not as vividly descriptive as Carol's Victorian Murder Mystery series, The Final Virus was a thoroughly enjoyable book, leaving enough threads for a follow-up but succinctly tying up all the loose ends.
Find a copy here from Amazon.co.uk or Amazon.com