Today's second team review is from Suraya, find her here http://www.thestorymint.com
Suraya has been reading The Ecology Of Lonesomeness by David J O'Brien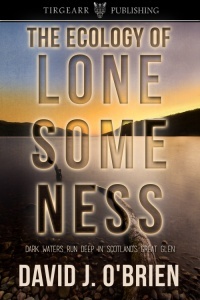 The Ecology of Lonesomeness
By David J O'Brien
A quick trawl through Amazon reveals any number of novels on the Loch Ness Monster. But I bet there are few like David O'Brien's which mixed scientific expertise with a romance.
The descriptions of the Scottish countryside are almost so good I could draw a picture without having to refer to an actual picture. I could feel the chill air, see the wind playing over the lake and smell the fish and chips at the Canalside Fish and Chip shop.
We meet the term Lonesomeness early in the novel. This is a clever play on words and you will find out why as you read the novel.
This is where Jessie and Kaleb meet and while he does his post-doctoral research on the Ecology of Loch Ness he mends his broken heart and discovers something that the locals want to protect from tourism.
Kaleb and Jessie's romance seems almost inevitable. She's a local on holiday from University in London and Kaleb is American doing some post-doctoral research. As they fall in love they grapple with the issue of whether or not Jessie will move to the United States and all that entails. This is no surprise….nor is the solution.
But while they grapple with these issues Kaleb finds skewed readings in his data.
You will have to read the novel to find out what the source of these skewed readings is. As you do enjoy the scenery and the romance. Look inside Jessie's parent's pub, The Shredded Sail and tramp with Jessie, Kaleb and Jessie's father through the rugged valleys and the Highlands.
This is an enjoyable and at times scholarly read. I liked that because although David O'Brien is clearly an accomplished ecologist, he respected that most readers did not want to read a text book.
It was enjoyable and allowed us a look into the scientist's world without showing off.
Five stars
Find a copy here from Amazon.co.uk or Amazon.com