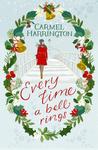 Every Time a Bell Rings by Carmel Harrington
My rating: 4 of 5 stars
Everytime the Bell Rings is a Christmas themed romance. The story opens with Belle and Jim on Christmas Eve 2005 in Dublin, both love the craziness of Christmas.
Then the book steps back 17 years to December 1988. 8 Year old Belle is being taken to a new foster home, she's afraid and has stopped talking, but the love shown to her by Tess her new foster mother allows Belle to feel safe and secure and she begins to talk. Her one Christmas wish is for a new best friend and this soon comes in the form of another foster child. Jim Looney's mother needs a break to get well and Jim is placed with Tess too.
Belle instantly likes Jim and sets out to make him feel loved and wanted, they form a great friendship, which sadly ends when Jim returns to his mother in 1990.
Next there is a big time jump, Belle and Jim are married and are now foster parents themselves, but after seeing her 107th child leave to go back home Belle has a mini breakdown. She can't keep breaking her heart over children, and her relationship with Jim is threatened.
This is a Christmas book so what better way to get to the ending than with a little parallel tale which echoes other famous storylines and films and makes a readers heart melt.
I really enjoyed the fostering stories and Belle's coming full circle at the end. I wasn't so keen on the prologue, I felt it was a story spoiler, and for me the book sagged in the middle with the so many Christmas traditions and Fostering/ family dilemmas, but I did like the ending.
This review is based on a free copy of the book I won in a competition.
Find a copy here from Amazon.co.uk or Amazon.com
View all my reviews on Goodreads