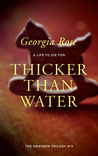 Thicker than Water by Georgia Rose
My rating: 4 of 5 stars
Thicker Than Water is book 3 of the Grayson trilogy and brings to a conclusion the tale around Emma Grayson a divorcee who lost a child and wanted to start a new life. She runs the horse yard on a private estate which is a front for a secret organisation.
In this book Emma has now married estate Manager Trent and finds herself pregnant. A mysterious package arrives for her via MI6 and sets off alarm bells which lead to revelations about her past life. But Emma is also in grave danger from a terrorist group known as the Polzin who circle ever closer in search of revenge.
This book had a slow start but the tension picked up in the second third, leading to an action packed finish. I would recommend reading this series from the beginning to get the most from the storyline.
Find a copy here from Amazon.co.uk or Amazon.com
View all my reviews on Goodreads