Today's team review is from Cathy, she blogs at http://betweenthelinesbookblog.wordpress.com
Cathy chose to read and review Dying Wish by James Raven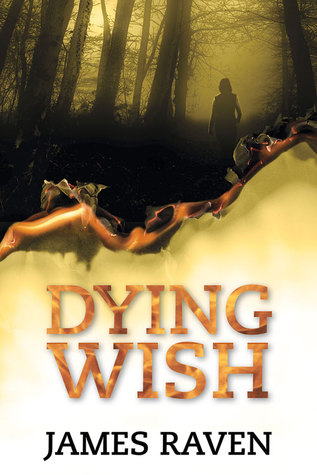 DCI Jeff Temple and his team are investigating the suspicious disappearance of a young couple in the New Forest when Jeff is informed of the sudden death of local author, Grant Mason, who he knew slightly. His late wife's best friend, Hilary Dyer, was Grant's personal assistant and while offering his condolences Hilary confides how anxious and disturbed she is by what Grant said to her in the ambulance on the way to the hospital. Jeff and his officers are following leads on the disappearance case, but after talking to Hilary Jeff decides to carry out a quick search of Grant's house himself on his way home to see what could possibly cause Grant to issue such a strange request. He arrives to find the front door ajar and as he enters it's obvious the house has been ransacked. As Jeff is searching the house he is caught off guard by the intruder and left unconscious.
The intruder didn't find what he was looking for because shocking evidence is uncovered by the forensic team at the scene, which sets in motion a sequence of unthinkable and horrific events which eventually link back to the present case. A case that is leaving Jeff feeling decidedly unsettled.
'He'd considered that, of course. Something could have sparked a bust up as they drove through the forest. Perhaps things had got so nasty between them that they'd decided it wasn't worth going to the hotel. It was certainly a possibility since even the most loving couples often take things to extremes when the red mist comes down.
Had Bob Hamilton harmed his wife and fled in a panic? From what Temple had learned about the man he found it hard to believe, but then after so long on the force nothing really surprised him anymore.'
Although he still feels the loss of his wife who died several years ago, Jeff is moving on and rebuilding his life with a fellow officer, Angelica, who is recovering from injuries following a car accident.  They are dealing with a difficult and potentially life changing situation in their personal lives, which adds to the strain and anxiety of the case, not to mention the gruesome new evidence which is being uncovered. Jeff is a well-developed, likeable character, respected by his team and with whom he has a good working relationship. His systematic handling of the nightmarish situation is realistic and the parallel story his of his personal challenges gives him a relatable quality.
Dying Wish is a solid, well written and well plotted book, easy to visualise, with an uncompromising and chilling storyline. Although I haven't read the previous books in the series there's enough information woven into the narrative for that not to matter and it can definitely be read as a stand-alone. The sections from the perspective of Grant's partner in crime adds to the suspense and intensity. The storyline is dark and thought provoking. People are sometimes not at all how they appear, and an abusive childhood can result in a sadistic and ruthless adult. James Raven does a great job keeping the tension and pace going with unexpected twists, especially at the end.
Find a copy here from Amazon.co.uk or Amazon.com