Today's team review is from Barb, she blogs at http://barbtaub.com/
Barb has been reading Danger At Thatcham Hall by Frances Evesham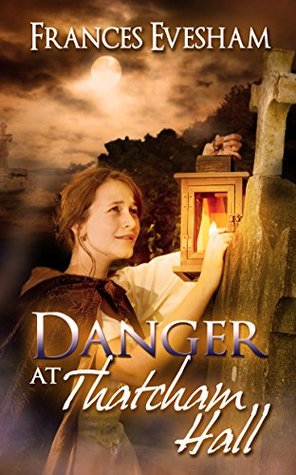 My Review: 4.5 stars out of 5
In John Bowen's talk filmed at Horace Walpole's miniature gothic Strawberry Hill—birthplace of the gothic novel—the Professor of 19th century literature at the University of York lists the essential elements of the gothic genre. Danger at Thatcham Hall, Frances Evesham's latest novel, provides a seamless illustration of each point:
It is such a pleasure to see an expert at work, and Frances Evesham is clearly a master of the gothic novel genre. Danger at Thatcham Hall is the second book in her Thatcham Hall Mysteries, but also stands well on its own. The main characters, Olivia Martin and Nelson Roberts, are at the same time perfectly shaped by their world and struggling against the limits imposed by their backgrounds and demographics. By rights, as the daughter of an impoverished widow, Olivia should be destined for a life as a governess or paid companion. Nelson should have been at the center of a group of military heroes telling tall tales of his exploits. But she is determined to earn a living with her music, while he struggles to make a name for himself as a barrister. Frances Evesham's technique of alternating points of view between the two main characters allows us see them both from the outside and also get a glimpse of the people beneath their conventional facades. The Victorian vocabulary of the gothic is particularly entertaining, such as Olivia becoming properly "breathless" when being carried by Nelson. And I'm no expert on Victorian times, but I'm bowled over by the amount of period detail and research she commands.
My complaints are fairly minor. Even Victorians, I believe, would not be so formal in private as to have Miss Dainty refer to her cousin and friend Olivia as "Miss Martin" even when the two are alone. More significantly, I just couldn't buy the final revelation of the identity of the villain who is manipulating the whole chain of events. Without going into spoiler-territory, I have to say I didn't see enough buildup in the story to ever believe that "the villain" could possibly have the understanding and depth to influence and/or cause the events.
But overall, for the pitch-perfect orchestration of the gothic genre in all its elements, for the beautifully paced and written narrative, and for the creation of two wonderful lead characters, I would give Danger at Thatcham Hall four and a half stars out of five. And I certainly can't wait for the next book in this incredible series!
Find a copy here from Amazon.co.uk or Amazon.com