Today's second team review comes from Luccia, she blogs at http://lucciagray.wordpress.com
Luccia has been reading Danger at Thatcham Hall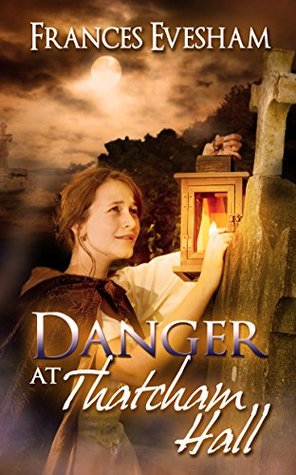 Victorian Crime Mystery
Frances Evesham has taken us back to Thatcham Hall, a large country estate in Victorian England, to encounter and solve more mysteries and encounter sweet romance.
Danger at Thatcham Hall is easy to love if you enjoy well-written, entertaining, moving, exciting, and romantic, crime novels, set in Victorian England. It was easy for me to love. Victorian England is my favourite place, so it was a joy to spend several hours wandering around the English countryside, solving crimes.
On this occasion, there are two guests at the Hall, and a murder mystery to be unraveled, which endangers the lives of the residents at the Hall. Nelson is Lord Thatcham's ambitious lawyer, who is a physically and spiritually scarred man, having experienced trauma at war and the betrayal of his fiancée. He meets Olivia, a strong willed pianist, who fears she may have to become a governess due to the constraints women faced when pursuing musical careers.
They stumble across a dead body, and Lord Thatcham asks Nelson to investigate the accusations against one of his staff. Nelson accepts the job and with Olivia's help finally disentangles the mystery.
There are plenty of richly drawn characters including a villain, a spoilt child, the imposing Dowager, the lovers, a mysterious healer, villagers, farmhands, and servants at the Hall. The reader is submerged with the characters into daily life in Victorian England, including a visit to London.
Once again, the author shows expert knowledge of Victorian England, which she transmits wrapped up in an enjoyable parcel of mystery, action, and romance.
Danger at Thatcham Hall can be read as a stand-alone. The action in the first book in the series, An Independent Woman, revolved around Lord Thatcham and how he met his wife-to-be, Philomena. My only complaint is that I would have liked to see more involvement of these two impressive characters in this second novel. Of course, it is no longer their story, but I came to like them enough to want to know more. If you have not read an Independent Woman yet, I also highly recommend it, too!
Find a copy here from Amazon.co.uk or Amazon.com