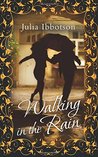 Walking in the Rain by Julia Ibbotson
My rating: 4 of 5 stars
Walking In the Rain is the second book in the Drumbeats Trilogy. It follows the life of Jess. In the first book she has taken a gap year in Ghana. This book is about what happens when she gets back. In the beginning Jess wants to return to Ghana after University and I was looking forward to some African adventures, but the story veers away from this.
This book deals with Simon, Jess's boyfriend, who finished with her when she returned from Ghana. But then had a turn-around of thoughts once he saw others interested in her. He then diligently pursued her, rushing an engagement and marriage while Jess was still studying.
The book is written from the POV of Jess looking back at her life with Simon, and pursuing her ultimate dream to become an author by writing down her life story. Her marriage to Simon was a constant struggle because he suffered from mental illness which was treated as manic depression and later diagnosed as bi-polar. Jess dealt with all the abuse and hardships from both Simon, his parents and even the rejection from the Quaker community she'd grown up in.
This is a sad book dealing with the darker sides of human life.
This review is based on a free copy of the book given to me by the author.
View all my reviews on Goodreads
Genre: Contemporary women's romance fiction
Release Date: 30th March 2015
https://www.youtube.com/watch?v=L3pUErb8cZc
How do you cope when your worst nightmare comes true?
Jess happily marries the love of her life. She wants to feel safe, secure and loved. But gradually it becomes clear that her beloved husband is not the man she thought him to be. She survived civil war and injury in Africa, but can she now survive the biggest trauma of her life?
This is the second novel in the Drumbeats trilogy but can be read as a standalone. However, Drumbeats is so amazing you should just read it too!
Drumbeats
Walking in the Rain
Before I Die
Want to read Drumbeats first? Buy-link on Amazon for the first in the trilogy:
http://www.amazon.co.uk/Drumbeats-Julia-Ibbotson-ebook/dp/B00LLJVFRG/ref=sr_1_3?s=books&ie=UTF8&qid=1404911650&sr=1-3&keywords=julia+Ibbotson
And, for a taster, the book trailer video for Drumbeats:
https://www.youtube.com/watch?v=2OYlEXhHvsc&list=UUP3hKZjeUBuTMoyvZmBXbow
BUY LINKS
Julia Ibbotson is an author and academic, and lives in the middle of the English countryside in a renovated Victorian rectory with her husband, an orchard, a kitchen garden and far too many moles. Their four children are now grown up and they have four gorgeous grandchildren. She was a school teacher for many years before becoming a senior university lecturer, researcher and writer. She loves reading, travelling, choral singing, theatre, walking, swimming and gardening, as well as cooking for family and friends. Her books include a memoir/recipe book, The Old Rectory: escape to a country kitchen, and a children's book (9-14 year olds),S.C.A.R.S, a fantasy story of dragons, knights and a boy who slips through the fabric of the universe into a parallel medieval world threatened by the evil Myrthor, the heart of darkness.
Author page on Amazon:
http://www.amazon.co.uk/Julia-Ibbotson/e/B0095XG11U/ref=sr_tc_2_0?qid=1377188346&sr=1-2-ent
Author facebook:
https://www.facebook.com/pages/Julia-Ibbotson-author/163085897119236
Twitter:
https://twitter.com/JuliaIbbotson
Author website:
http://www.juliaibbotsonauthor.com
Pinterest page: includes boards with pics and images that inspired each book
Goodreads author page:
http://www.goodreads.com/author/show/6017965.Julia_Ibbotson
Giveaway
A signed paperback of Walking in the Rain
(Open Internationally)