Today's team review comes from Cathy, she blogs at http://betweenthelinesbookblog.wordpress.com
Cathy chose to read and review Fallen On Good Times by Rewan Tremethick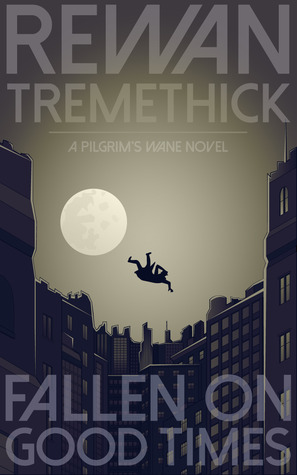 Laslo Kane, a paranormal detective living in 1920s Pilgrim's Wane during prohibition, is broke, down on his luck and minus his girlfriend. Not renowned for solving regular cases, Laslo deals with the supernatural and his two worlds overlap making solving crimes that much more difficult. And as most of the residents of Pilgrim's Wane are oblivious to the vampires, werewolves, trolls and demons inhabiting the city, they tend to think of Laslo as incompetent. When an old lady asked Laslo to find her missing cat and was told it had been eaten by a sabre toothed tiger 'she tried to have me committed.' Laslo still bears five large claw marks and to add insult to injury he didn't even get paid.
While contemplating a career change Laslo gets a job offer from Darius Targar to investigate the murder of his business partner and bank robbers who are putting money into his account. With the promise of a huge fee which would get Laslo back on his feet and then some, and a down-payment of more than he's earned in the last four months, Laslo is hooked. The huge downside is the fact the most powerful criminal organisation in the city is involved. The Pottellis, lead by the fearsome Adamar Pottelli, also have vampires, the undead and a werewolf available to them whenever they wish.
Laslo enlists the help of his friend, journalist Rita Orbit, his go to person for information and to 'chin about a tricky case', now that his former girlfriend and the love of his life, Kitty, is no longer in the picture. As he connects the threads between several murders the clues lead him to the Pottellis and Laslo receives another, much larger offer placing him in an untenable position. That's nothing new to Laslo, though…'This was my life. Whatever I tried to do, things always seemed to get deadly.'
An original and very entertaining book with an unconventional and extremely likeable protagonist. The story is narrated in the first person by Laslo with lots of humorous wisecracks, and mixes the paranormal with mystery and intrigue. All the characters are fleshed out, individual and compelling. Misty Joe, the ghost medium who didn't realise he was dead, Rita, Kitty and her parents. Even the villains are great characters and they're all fundamental to the plot. Hardboiled/Noir is a favourite genre of mine and the paranormal aspect of the story adds an interesting and innovative layer. Great pacing, impressive action sequences, especially at the end, and skilfully written, it's hard to believe this is a debut novel. I love it and look forward to the next book.
Find a copy here from Amazon.co.uk or Amazon.com