Crashing into Love by Melissa Foster
My rating: 5 of 5 stars
Crashing Into Love is Book #20 of The Love In Bloom series and #12 of The Bradens. It's hot romance and ticks all the boxes for romance readers.
Jake Braden is an LA stuntman, he leads a fast life, women, parties, cars at a whirlwind pace. Anything to avoid the silence which will bring him crashing down in painful thoughts.
Fiona Steele is a geologist at the Bureau of Mines and Geology and for the last sixteen years she's been avoiding Jake as much as he's been hiding from her. As teenagers they dated but when Fiona's father abandoned her mother, it caused upheaval in all their lives, with Fiona due to leave home for college, her Mum's advice was to let Jake go and spread her wings.
It broke her heart to leave Jake and he never got over it either. Now Fiona wants him back, but can she break down the barriers and slay the demons which have taken over? When both are home in Trusty, Colorado, Jakes brothers set him up to meet Fiona in a bar. The meeting is tense and doesn't go well.
Fiona has been bold, she's taken unpaid time off work and for the next few weeks she's going to be her friend Trish's assistant on the set of a new film where Jake is the stuntman. He can't stay in denial long when he sees Fiona everyday and soon he starts to question the life he leads and what he really wants. But what about the future? Fiona has a huge job promotion offer and Jake will have more film work all over the world. Can they possible compromise to make a relationship work?
Another great book is this series.
This review is based on a free copy of the book given to me by the author via Brook Cottage Books
View all my reviews on Goodreads
Only one woman could hurt ultra-alpha bad boy Jake Braden.
Only one woman can heal him.
Fiona Steele has arrived…
Fiona Steele has a great career, strong friendships, and a loving family. To an outsider, her life appears happy and fulfilling. But the one thing that's missing is true love, and the only man Fiona wants is the one she can't have, sinfully handsome and seductively intense Jake Braden—the man whose heart she broke, which she has regretted ever since.
As an LA stuntman, Jake Braden's at the top of his game. He's hired for all the best movies, hooks up with the hottest women, and lives an unencumbered lifestyle where his needs come first—and where he doesn't have to examine his life too closely. Except when he visits his family in his close-knit hometown of Trusty, Colorado, where he spends his time avoiding Fiona—the only woman who knows who he really is.
When Fiona's best friend is hired to act in Jake's movie, Fiona jumps at the chance to try to win him back. There's no denying the white-hot attraction burning between them. With every encounter, Fiona hopes Jake can't resist falling back into the love they once shared. But her well-orchestrated rendezvous doesn't go over well with the brooding heartthrob. Living in the fast lane is perfect for a guy who's buried his emotions so damn deep he's not sure he can remember how to feel—and he's not sure he ever wants to.
Melissa Foster is a New York Times & USA Today bestselling and award-winning author. She writes contemporary romance, new adult, contemporary women's fiction, suspense, and historical fiction with emotionally compelling characters that stay with you long after you turn the last page. Her books have been recommended by USA Today's book blog, Hagerstown Magazine, The Patriot, and several other print venues. She is the founder of the  World Literary Café and Fostering Success. When she's not writing, Melissa helps authors navigate the publishing industry through her author training programs on  Fostering Success. Melissa has been published in Calgary's Child Magazine, the Huffington Post, and Women Business Owners magazine.
Melissa hosts an annual Aspiring Authors contest for children and has painted and donated several murals to The Hospital for Sick Children in Washington, DC. Melissa lives in Maryland with her family.
Visit Melissa on social media. Melissa enjoys discussing her books with book clubs and reader groups, and welcomes an invitation to your event.
Authors Links:
Sign up for Melissa's newsletter to stay up to date with releases and giveaways
http://www.melissafoster.com/newsletter/
BUY LINKS
Giveaway – 3ecopies of the previous book in the series – Dreaming of Love
a Rafflecopter giveaway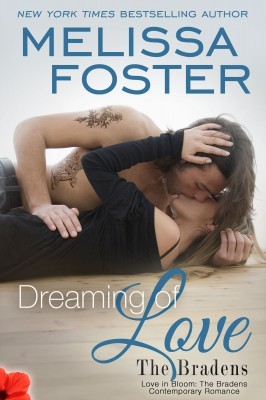 Emily Braden is a leader in architectural preservation, a pillar in her small hometown, and successful in everything she does—with the exception of finding true love. She's watched several of her brothers fall in love, and she needs this trip to Tuscany to get away from it all and to stop focusing on what she doesn't have.
Dae Bray doesn't do flings, and he never stays in one place for very long. As a demolitionist, he goes where jobs take him, and the more often he travels, the better. His trip to Tuscany is all work—until he meets smart and sexy Emily, who makes him reconsider his fear of settling down, his no-fling rule—and just about everything else he's ever believed about himself.
Passion sizzles as Dae and Emily explore the history and beauty of Tuscany. Their romance moves beyond tourist attractions to the bedroom, blossoming into a deep connection neither can deny. But their worlds collide when Emily wants to preserve the property that Dae is there to demolish. Can a woman who sees the beauty in preservation and a man whose life is spent tearing things down find a solid foundation for their love?