Dreaming of Love by Melissa Foster
My rating: 5 of 5 stars
Dreaming of Love is a great stand alone book, but if you love Melissa's books then know that it is also 11th in the Braden book series and 19th in the Love In Bloom series. I've now read several books in both series and love how the characters all intertwine.
This book is about Emily Braden, she's watched 4 of her 5 strong character brothers be knocked over with love for some amazing women and Emily wants to find someone for herself. She's always fought her corner for a rightful place amongst her brothers and she loves them all. She's an architect from Trusty, Colorado, she works hard and now it's time for a rest. Her brother Wes has given her a ticket to Tuscany for a well deserved break in an area of beauty, she arrives clutching, as always her hopes of love.
She's staying in a villa near Florence, the home of Adelina and her family. With just two rooms available, Emily soon meets the other guest and just one smouldering look has her pulse racing. Dae Dray is here for a work project, to assess a house for demolition, but it looks like he's going to work some demolition in the romance department too.
A local villa, Casa Dei Desideri, the House of Wishes draws local women to it's ancient olive tree who share their secret wishes. Myth has it that the tree has mysterious powers. Conflict occurs when Emily's need to preserve family bonds of love go against Dae's work project.
Melissa's writing is full of passion and emotion, she has strong characters who reach out to the reader's own emotions and take you on a roller-coaster ride.
View all my reviews on Goodreads
Emily Braden is a leader in architectural preservation, a pillar in her small hometown, and successful in everything she does—with the exception of finding true love. She's watched several of her brothers fall in love, and she needs this trip to Tuscany to get away from it all and to stop focusing on what she doesn't have.
Dae Bray doesn't do flings, and he never stays in one place for very long. As a demolitionist, he goes where jobs take him, and the more often he travels, the better. His trip to Tuscany is all work—until he meets smart and sexy Emily, who makes him reconsider his fear of settling down, his no-fling rule—and just about everything else he's ever believed about himself.
Passion sizzles as Dae and Emily explore the history and beauty of Tuscany. Their romance moves beyond tourist attractions to the bedroom, blossoming into a deep connection neither can deny. But their worlds collide when Emily wants to preserve the property that Dae is there to demolish. Can a woman who sees the beauty in preservation and a man whose life is spent tearing things down find a solid foundation for their love?
Buy Links to be included in the post
https://www.smashwords.com/books/view/506161
http://www.amazon.com/dp/194148008X
https://itunes.apple.com/br/book/dreaming-love-love-in-bloom/id909954185?l=en&mt=11
http://www.amazon.com/dp/B00QQRIRQ0
https://play.google.com/store/books/details/Melissa_Foster_Dreaming_of_Love_Love_in_Bloom_The_?id=HPlfBQAAQBAJ
http://store.kobobooks.com/en-US/ebook/dreaming-of-love-love-in-bloom-the-bradens
http://www.barnesandnoble.com/w/dreaming-of-love-melissa-foster/1121005012?ean=2940046492859
About the Author
Melissa Foster is a New York Times & USA Today bestselling and award-winning author. She writes contemporary romance, new adult, contemporary women's fiction, suspense, and historical fiction with emotionally compelling characters that stay with you long after you turn the last page. Her books have been recommended by USA Today's book blog, Hagerstown Magazine, The Patriot, and several other print venues. She is the founder of the Women's Nest, a social and support community for women, the World Literary Café. When she's not writing, Melissa helps authors navigate the publishing industry through her author training programs on  Fostering Success. Melissa has been published in Calgary's Child Magazine, the Huffington Post, and Women Business Owners magazine.
Melissa hosts an annual Aspiring Authors contest for children and has painted and donated several murals to The Hospital for Sick Children in Washington, DC. Melissa lives in Maryland with her family.
Visit Melissa on The Women's Nest, Fostering Success, or World Lit Cafe. Melissa enjoys discussing her books with book clubs and reader groups, and welcomes an invitation to your event.
Authors Links:
GIVEAWAY INFO
The giveaway on tour is 3 x ecopies of Flirting with Love (the previous novel in the series).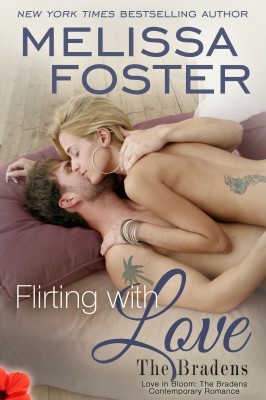 Elisabeth Nash has spent years dreaming of returning to the small town of Trusty, Colorado, where she spent summers with her favorite aunt. When she inherits her aunt's farmette, she closes her Los Angeles pet bakery and pampering business, sure that life in Trusty will be as peaceful and as welcoming as she remembers. But being an outsider in the close-knit town proves to be very different from the happy summers she remembers from her childhood—and falling for Trusty's hot, wealthy, and sinfully irresistible veterinarian, Ross Braden, sends the rumor mill into a frenzy.

a Rafflecopter giveaway