Today we have a review from Amanda, she blogs at https://ajbookreviewclub.wordpress.com/
Amanda chose to read and review Don't Touch by Barb Taub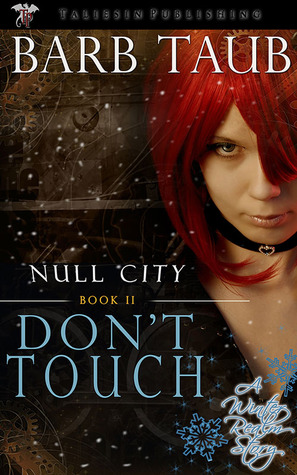 WHAT I SAY
I loved this book 5 stars . This is the 2nd book in the Null city books but you can read as a standalone like i did
The other books in the Null City tiles are
One way fare book 1
Don't touch  book2
Tales for Null city book 3
I have now got to get the others as i enjoyed this so much . It a urban fantasy novella  i so wanted it to be longer as i got hooked into the plot by first page and was hook till finish reading it .
The story told as journal entries by Lette ( that short for roulette )
She has a very rare superpower she has' touch' everything she touches with her fingertips will turn into that days super power each day  it was something new somedays we got gold , cupcakes, diamond rings. Jack in box and sandwiches some day it could be more dangerous thing she would never knew till she touched something she had to wear rubber gloves to stop it happening .
He life was so hard to cope with or did she like it ? I not sure what did you feel ?
On her thirteen birthday Lette awakens to feel that she can see colour but her eyes were closed she could see through her fingertips what was around her ,was that the start of this power ?
Her power seemed to grow she had to live my herself or i should say with George her mum evil cat i loved him but one day lette touches him it just so funny what happens you got to read lette and George work so well together both are very funny at times they just make you laugh so much .Both are very witty character
Did lette like they way she lived i not sure what did you think ? She a very strong character you do get to hear all her emotions she did not seem worried by her  powers she just learn to live or cope with them .
One day she learns of Null city and Stefan he going to help her get there both need to go to Null city it could change their life for them both .That would be good they could be normal or could they ? What is normal?
You could see her room in your mind the way barb writes it so clear the descriptions are so spot on you can see and feel what they felt
Lette as a character was so strong she seem very sure of her self and what see wanted in her life i like that she carried a crossbow and quiver like we all carry are hand bags around . She was not good a cooking . She seem to grown as the story  when on i liked how her mind worked thing out          She was a thinker i like to think about things first then do them .
Stefan  was a very good character too he was very handsome with lovely eyes .
His family wanted him to take over the family business but his does not want to he got a degree in teaching ( he love to use that one day )
We learn all about his family business and why he need to go to Null city
Both of them just want to be normal
 You could feel a bit of romance between than they do become very close
The book wrote in a very clever way it full of humour , fun  and both characters have some very tough decisions to
Make and lesson to learn on their journey
It was very challenging getting to Null city for them both .
The metro train plays a big part of the story which i like i just wanted to go on it too this is were we met Rag
Rag was a very good character he was hard to read i was not sure what his power were or of him to start with i like all his notes they made me smile. He was  a very powerful man his had a very strong mind you will just warm to all the character they become like me family to me
At Null city can thing change ?   What will happen them all ?
    You got to read to see what happens
I just sounded so nice i wanted to go there i could see it all in my mind it just a story packed with fun  and adventure you just got transported into this world of the metro and Null city
I just enjoyed it all i just got pull into the plot from the first page my only
 Criticism is it to short i wanted to hear more about them all .  I recommend you all read .It a very quirky read i found it a compelling story this fantasy world was so cool  it just a exceptional and creative read
5 stars
WHERE TO FIND BARB
Author Twitter: @barbtaub
AMAZON LINKS