Today we have a review from team member Amanda, she blogs at https://ajbookreviewclub.wordpress.com/
She chose to read and review The Secret Diary of Eleanor Cobham by Tony Riches.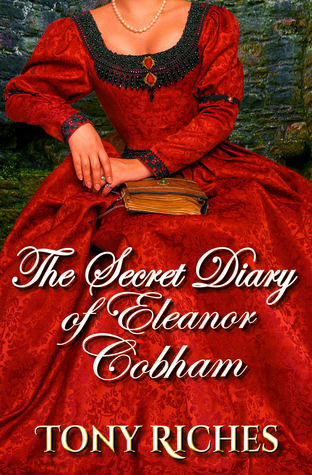 WHAT I SAY
Wow what a book i really did enjoy it . This is one of the first books by Tony Riches i had read so i was not sure what it would be like . I pick to read because i love history and i was so happy i pick , it a very powerful read . The story will just grip you . I got pulled into the plot by the first few pages . It became a page turner for me .The story is told from the point of view of Eleanor who was the Duchess of Gloucester she was put on trial for witchcraft and treason against Henry VIEleanor was the wife of the duke Humphrey of Gloucester he was one of the richest men in the country i was not sure if i like him what did you think ? He was next in line to the throne so one day Eleanor hoped she would become the Queen of England .
I enjoyed reading about Eleanor interest in astrology and the dark arts but was she into witchcraft you will have to make up your own minds i was not sure ?
what will you think ?
Her husband seem to be a very powerful man but he did a few things that lead to his enemies accuse Eleanor of a plot against the king
She was found guilty of sorcery and witchcraft but for some reason the king Henry VI order her to be imprison for life ,this was for about 10 year normally people were killed or hanged for this crime in them days .
Eleanor was now the kings prisoner she when to the finest palaces i enjoy read about them all tony wrote then in such detail i could see them in my mind .
Leeds castle sounded one of the best but i felt the isle of man was one of the worst .The condition were so bad very basic and so not fit for anyone to be put in .My heart when out to her .She lived a very tough life she had to deal with so much i want to tell you more but i want you all to read
She did have a maid to help her and look after her but were they good to her ?
Did they go behind her back ?
Where did her jewellery go that she sew into her dress ?
I not sure she could trust any one
The book tells you how Eleanor got her writing things her inks and parchment i like how she made her pens from the crows feathers she found in the gardens if she allow to walk around she hid them to use later .
She was very clever and wrote her diary in a code she learn how to write it took a while for her to understand she wrote about her life . The book tell you of her affairs and the love of her life too . The last place she was at was Becunuris Castle on the island of Angley . This was were she hid her box and some year later workmen found her old wooden box hided under the floor broad her parchment had gone yellow it took year to understand what she had wrote it was so well coded that people could not understand
I did feel a connection with the characters i did feel there were all very strong and some were very in dept i did find Eleanor hard to read sometimes but i like that about her she was a very brave lady she must of live thought hell her life was tough i did feel it was a very powerful insight to how she was treated as a prisoner it was just so interesting to read i was gripped .i wanted see what would happen next to her . You just get pulled into the plot you feel like you are there with her .I like that we got hear all her motives and actions and why she did things .I felt the plot was very well research the book a wonderful read .
Tony writing style just so easy to follow you will be addicted to the plot i was.
Tony description are so good and very clear you can see in all in your mind
The book got a lot of real facts in which i like reading this book has made me want to find out more about her as i loved the history of the story
I enjoy that last part of the book were Tony tell how or were he got all his facts from
I got to say i was not sure on this part of history i should have took more notice in school but that did not spoilt the book it just a very well written story you will be hooked on it i was .
I love to recommend you all read
4 dolls
I would like to thank Tony for letting me read his wonderful book