Today's team book review comes from Terry, she blogs at http://terrytylerbookreviews.blogspot.co.uk/
She chose to read and review Losing It All by Marsha Cornelius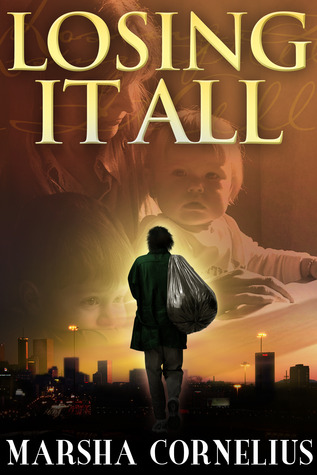 LOSING IT ALL by Marsha Cornelius – review by Terry
My rating: 4.5 out of 5 stars
I enjoyed this – it's interesting and unusual.
The novel is set mostly around Atlanta, Georgia in the US. Frank is a Vietnam vet whose life has crashed and burned, leaving him a vagrant trying to scratch out an existence as best he can. Chloe is a small town, naïve mother of two who has allowed her path through life to be determined by others. When husband Duane deserts her, everything gradually falls apart and she ends up in a shelter for homeless women.
Marsha Cornelius has clearly put a great deal of research into this story. I recently watched the 1960s BBC (UK) drama-documentary 'Cathy Come Home', which shows how easily families in the UK in the 1960s could descend from keeping their heads above water into homelessness; this book had the same effect on me. It's shocking, but so real, and really made me think about how so many people are just a couple of salary cheques away from the street!   The details of both Chloe and Frank's struggles are very well illustrated, as is their climb back to something approaching normality – though indeed, what they consider 'normal' is not the conventional lifestyle some would expect.
The message of this book is definitely one of love and relationships mattering more than anything else, and about it being the simple things in life that can bring the most happiness. The romantic aspect of the story was perfectly portrayed too, I thought; not schmaltzy, or overtly sexy for the sake of it but just touching and true to life.
It's a story about love and hope, the goodwill of friends, and the discovery of inner strength. Recommended.
Find a copy here from Amazon.co.uk or Amazon.com