Today's guest and book on the Mystery Book Tour is Moscow Bound by Adrian Churchward.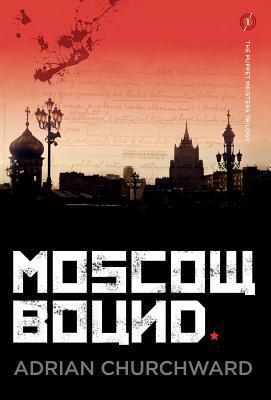 Where is your home town?
London UK. My apartment overlooks the River Thames, with the O2 Arena in the near distance.
How long have you been writing?
On and off for 15 years
What is your favourite sub-genre of mystery?
I am concerned with the ever-growing abuses of power committed by politicians and the "power elite", so I am trying to reveal the extent to which these people will go to pursue their agendas – lawful or unlawful. Scott Mitchell, my fictionalised idealistic human rights lawyer, is the messenger.
Where is Moscow Bound set?
Primarily in Moscow, but with scenes in Suzdal (about 220km north east of the capital) and Sarov/Arzamas (about 515km east of the capital)
Can you introduce us to Ekaterina Romanova?
Ekaterina is the beautiful 30-something estranged wife of Russia's richest oligarch, who is 25+ years her senior. But she is no "trophy bimbo". She has two economics degrees, is ice cool, assertive and doesn't tolerate fools.
Tell us about the character of General Pravda
General Pravda of Russian military intelligence (GRU) is fiercely devoted to his Motherland, though he realises that things must change in the way Russia treats its people, if it is to become a transparent and more civilised society.
Can you tempt us with hints at what Ekaterina and Scott must run from?
I don't want to spoil it for new readers, but the pair discover a brutally murdered body while searching for Ekaterina's father. Scott is convinced that they will be arrested for the crime, so they decide to get out of Moscow for a while.
Scott is a human rights lawyer, why do his beliefs change during his search for Ekaterina's father?
He is idealistic, just turned 30 and believes that most issues are "black and white"; especially after winning his Strasburg Court case against the Russian government for Chechen war crimes. However, his adventures with Ekaterina and General Pravda persuade him that geopolitical matters aren't so clear cut after all, and even the people he seeks to protect may not share his views on human rights.
Tell us what you are working on at the moment.
Apart from working "25" hours a day trying to promote Moscow Bound, I am writing the second novel of the Puppet Meisters Trilogy. It brings Scott back to London and immerses him in even more Machiavellian dealings by our Puppet Meisters than he was subjected to in Russia. Again, it is fact mixed with fiction.
Where can readers find out more about you?
My social media links are as follows;
www.facebook.com/puppetmeisters1
https://twitter.com/abchurchward
www.facebook.com/adrianchurchward
You can find reviews on:
https://www.goodreads.com/book/show/22130087-moscow-bound
http://www.madhatterreviews.co.uk/books–e-books.html
http://nblo.gs/106jjz (Book Reader's Heaven)
Readers can catch up with my own review of Moscow Bound here on the blog tomorrow.