Today's book review comes from Cathy, she blogs at http://betweenthelinesbookblog.wordpress.com/
Cathy chose to read and review Falling: Angels Among Us The Complete Series by Linn B Halton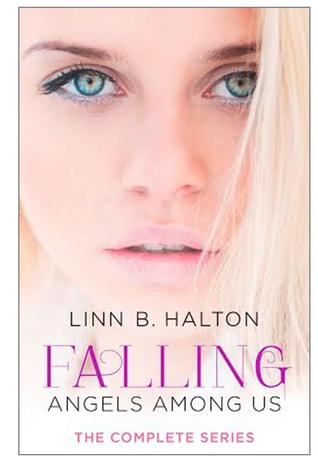 Book blurb
'Ceri thinks she sees angels … everywhere. She struggles to keep separate what feels like two very different sides to her life. As a manager in an advertising company she's been working with the gorgeous Alex for two years. The have a friendship based upon the image she portrays whilst she's at work and it helps to keep her sane. One mad, crazy night spent sharing their secrets and a lot of wine result in them ending up in bed together and their relationship changes. When Alex explains that the reason he doesn't date is because someone broke his heart, how can Ceri admit that she feels a deep connection to him?'
My review
Ceri is on a journey of self discovery and learning, of what her gift for helping people and sensing the presence of angels, mainly by intuition, really means. She knows she is different but she doesn't realise her gift is her calling and she is destined to be alone. She and Alex are only meant to cross paths briefly, he to help her when she is in doubt, and then to both go their separate ways. Neither of them understand Ceri is not supposed to fall in love during this earthly existence…
Ceri's task is to correct mistakes people make that may alter the course of their destined lives. It was easy to like and  empathise with her, and Alex, especially when I read the passages from his point of view. They both suffer dreadfully because they are not destined to be together. Ceri is compassionate, astute and very confused about her feelings for Alex. As she begins to learn who and what she is and awakens more and more to her psychic abilities, the spiritual and theological aspects are explored in-depth and are very interesting and fascinating. The story focuses quite heavily on this perspective as Ceri learns her true calling.
'I have no idea exactly when I began seeing angels, but I can't seem to remember a time when I couldn't. It feels like it's always been a part of my life. It's as natural as breathing and, yes, there are times when I wish that wasn't the case. I seriously doubt anyone would choose to get drawn into something they don't really understand. Why would they?'
There is much development in Ceri and Alex's relationship, as well as Ceri's personal development, and as the two clash emotions run very high. Ceri must choose her path and either way, it's not easy as she struggles with the powerful feelings between her and Alex. Should she heed what she now knows is her destiny, or choose to follow her heart?
Linn Halton's writing style is fluid and easy to read, I was drawn in from the start. The story is filled with a multitude of emotions, highs and lows, and although the spiritual angle features throughout it's not overwhelming and blends in well with the romance. There's a lot to like and be drawn into in this book if you're open to the otherworldly and metaphysical. I enjoyed exploring the premise there is more to this life than we think, and more beyond than is imaginable.
After initial misgivings (I'm not really into romantic fiction but this is more than a straight romance) I enjoyed reading this book a lot and give it a solid  four-star rating. The paranormal/spiritual aspect made it for me. Many thanks to J B Johnson at Brook Cottage Books for sending me an e-copy.
Find a copy here from Amazon.co.uk or Amazon.com