Today's book review comes from Sterna, she blogs at http://sternakruger.wordpress.com/2014/10/21/falling-angels-among-us-the-complete-series-by-linn-b-halton/
Sterna chose to read and review Falling: Angels Among Us The Complete Series By Linn B Halton in conjunction with Brook Cottage Books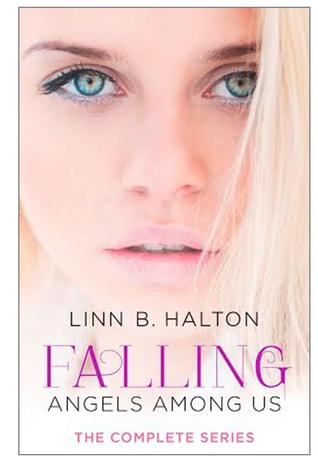 This review is on behalf of Brook Cottage Books.
This is the first book I have read by Linn, so I was not familiar with her or her writing style, and at first I was a little confused about the genre the book was placed in, but after reading the complete series, I was pleasantly surprised.
In the first chapter we meet Ceri, and her brother Seb and we are told that they are twins, though very different and that they value their individual identities. Seb is practical and Ceri is more creative. We are also told that though they are close, Seb does not believe that Ceri really sees angels, and the boundaries of their relationship are set from the start.
We also meet Alex, her work colleague, and though they get along great, the relationship is strictly professional. They're a great team, and after becoming friends and after Alex is introduced to the other side of Ceri's life, their relationship changes and things get complicated.
… she's altered one hundred-and-thirty-one lives – and I found myself wondering as to what exactly it is that she does … and at the end of chapter two she makes it a little clearer, and you're left even more curious about Ceri's story.
I like the characters, they are all real and you can connect with them, and the back story is beautifully blended, I would love to read Sheena's story of finding love as well.
The relationship between Ceri and Alex are different from other romance novels, so don't expect a fantasy novel filled with pulse racing love scenes, roses and dusty sunsets. For those interested and open-minded it reads like a personal journal filled with details and facts about another world, another world so real that the book definitely had me thinking outside the box and will stay with me for a long time to come.
It has a completely unexpected ending! And though it leaves you with a million questions, it's still happy and warm and you have the distinct feeling that everything worked out exactly the way it was supposed to.
It's a beautifully written story about real love, loss and life. And whether you believe or you don't, this book will surely leave you at least wondering about the possibilities. And I will definitely be reading more from the author.
Find a copy here from Amazon.co.uk or Amazon.com