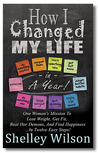 How I Changed My Life in a Year by Shelley Wilson
My rating: 5 of 5 stars
This book was my September treat, after the long school holidays I always deserve a treat and I do love a book that motivates me. The book title appealed to me straight away and I loved the cover with the post-it notes.
Shelley writes in a fun and amusing way and the book goes through her 12 resolutions to change her life for the better with some great lessons along the way. Shelley set herself monthly challenges and within those weekly smaller conquests. I liked the idea of a visions board of things you want to do, I know the idea isn't new but I've only ever tried it once and I lost the enthusiasm.
Month 6, "Adopt better habits", was one of my favourites, I already do a lot of re-cycling, but I had a bag of items for the charity shop which had been sitting by the back door and not actually going anywhere. After reading about Shelley's month 6 I got off my backside, filled another bag with books and put both in my car. Then I planned my next day with a slot to visit the charity shop to drop off my bags. Coming home to empty spaces felt good.
I also enjoyed the challenge to wear bright clothes and not anything black. I took one look at the clothes I was getting ready for the cooler months and realised they were mostly black. Feeling incredibly brave I took to the shops to find some colourful new clothes, I bought jumpers and shirts, but trying to find trousers I like which aren't jeans, skinny or black is proving harder.
This book brought a smile to my face and a list of ways I want to improve my own life, I'll finish with a quote from the book "Dream it, Live it, Become it."
Find a copy here from Amazon.co.uk Or Amazon.com
View all my reviews on Goodreads
Shelley will be our guest author tomorrow and starting this Friday she is doing a 4 week post slot on helpful ways to change your own life for the better.