Today we have a review from Book Review Team member Karen, she blogs at http://mytrainofthoughtson.wordpress.com/
Karen chose to read The Unicorn Girl by M.L. LeGette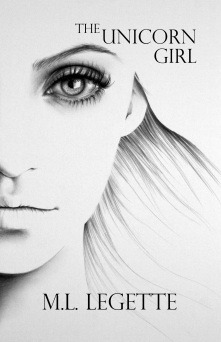 Here is Karen's review.
The book introduces you to Leah Vindral, growing up motherless at Willow Manor. Her days are filled with learning – thanks to her demanding governess, Miss Perish. Her daily highlight is mounting her mare Iris. After recovering from an illness, everything is different, and she decides to flee. I will not tell you more about the story than shown in the Goodreads plot description. This would spoil the fun of reading this book yourself.
With The Unicorn Girl, M.L. LeGette has created a wonderful YA fantasy and/or coming of age story. Throughout her endeavour, you can 'watch' Leah develop from a whiny little girl to a young woman who makes her own decisions. The Unicorn Girl is a really entertaining and fast-paced read. I was drawn into the story right away. I felt quite close to the characters and their experiences. All characters were believable, still leaving room for the readers' imagination. The Unicorn Girl is a great story not only for YA fantasy lovers – a truly enjoyable read.
This is a book to read again.
Find a copy here from Amazon.co.uk or Amazon.com