Rosie's Book Review Team reviewer Dani brings us today's review. She blogs at http://onlybooksandhorses.wordpress.com
Dani chose "The Unicorn Girl" by M.L. LeGette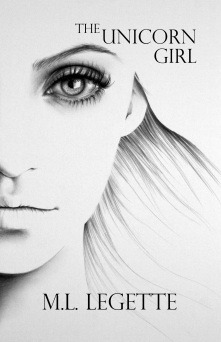 Here is Dani's review.
This YA fantasy novel follows the story of Leah, who is marked by the very magic that everyone fears. It saves her life, but sparks a series of events that are far out of her control and even further out of her comfort zone.
It's got such a fantastic plot; the book is exciting and relentless in its pacing. The visual story-telling just begs for a film adaptation (which I would be the first in line to go and see, by the way.) The simplicity and action orientation means that this book is perfect for a young person just getting into reading; I'll definitely be recommending it to any friends that have yet to fully experience the magic of books.
My only complaints about the book were requests for more; some huge decisions were perhaps a little rushed, and left with gaps in the explanations; there was a lack of non-action-based conversation (I'd have loved to see Lavena and Leah bond more); and I'd have really liked to see more of the unicorns.
That said, I loved pretty much everything that was put in – Ms LeGette creates some adorable characters (yes you, Ian), and she injects the story with flashes of humour and wisdom. Leah is a great protagonist: relateable, well-developed and a real pleasure to read about.
The plot was at times cliche and a little predictable, but I felt that these things were forgivable because it gave the story the feel of a fairy-tale.
In all, this book was fast-paced, clean and magical with a genuinely enjoyable story-line and the perfect premise to appeal to young readers (myself included).
Find a copy here from Amazon.co.uk or Amazon.com